Family Automotive
For a Family Town
Just down the street from Perth Mews and Starbucks!
Fair Pricing. Honest Quotes.
Quality Service. Guaranteed.
Schedule A Service Appointment
Family Owned, Family Proud
Wilson Street Auto Fleet and Tire is a family run automotive shop located in the town of Perth, Ontario. We offer full service to your light and heavy duty vehicles, tire sales, installation and alignments.

Using state-of-the-art Hunter Alignment equipment, quality parts and knowledgeable mechanics, we are able to provide top care for your vehicles. Our clean, spacious lobby with cable television encourages you to relax during your service and a viewing window allows you to look out to our shop and see your vehicle.

We hold ourselves to the highest standards of honesty and reliability. Our shop and office is also wheel chair accessible. When searching for the right shop for your vehicle and yourself, choose Wilson Street Auto Fleet & Tire.
CURRENT SPECIALS
WE KNOW YOU WANT TO SAVE YOUR HARD EARNED MONEY - HERE ARE SOME DEALS YOU SHOULDN'T MISS


$25 OFF
​
Your Purchase of Four Tires
COMPLIMENTARY
Quick Alignment Check
(with your tire purchase)
CALL NOW ABOUT OUR SPECIALS
$25 TIRE STORAGE FEE
$10 for Seniors



Our Services
Complete Automotive Care
Top-Quality Auto Maintenance And Repair By Our Experienced Team
Oil Changes


Make sure you're always covered, and that your engine runs smoothly by changing your oil filters. Having regular oil changes will help the performance of your car and ultimately improve the lifespan of your vehicle's engine. Oil changes are an easy, inexpensive and effective way of boosting the lifespan of your wheels.
​
Tune-Ups
Get quality tune-up services aimed at inspecting and
boosting the quality of your car's performance. Our mechanics will meet manufacturer specifications so that your vehicle runs optimally.











​
Warranty Maintenance
We understand that your vehicle warranty is in place to safeguard your car. Get the peace of mind knowing that your car maintenance warranty is always covered when bringing your vehicle in for a service with us.




​
Keeping You Cool All Summer With Our Air Conditioning Services
Safety on the road is imperative. When your brakes and pads are in the right condition, it can save your life and the lives of others in dire situations. Make sure to listen out for strange sounds from your car. We will always check if it needs repairs so that you're always protected.


​



Fleet Servicing
Trucks and Trailers
Bring fleet vehicles, hauler and what you haul to us for the best service around.



Light and Heavy Duty
Vehicle Servicing
Big or small, we can handle your vehicles in our spacious bays.


​

​
Maximize Your Safety With Tire Inspections And Maintenance
Our team of auto repair specialists have vast knowledge and expertise to check and improve the quality of your vehicle tires. They'll make sure that you can rely on your tire performance for every mile
you drive. With our know-how
and competitive rates, we'll provide you with tire solutions
you can trust!
​
Schedule A Service Appointment Today
DON'T TAKE OUR WORD FOR IT
SEE WHAT OUR CUSTOMERS ARE SAYING
Pleasantly surprised to find this new garage in Perth. Their garage can accommodate my Toyota RV!
The service was exceptionally fast. The communication on booking in, and repair status was gold standard. Friendly.
And also
attentive to catch an issue I was not aware on the original booking. Finding a quality business is always a treat.
As a first time tire buyer, I was a little nervous not knowing what I wanted or needed. Macy, at Wilson Tires made my experience easy peasy lemon squeeze. She showed me a variety of brands and prices and we worked together to match the perfect rims with the safest winter tires. Being on the Canadian winter, thank you Macy! - Ashley, 21
GET A COMPLIMENTARY
QUICK ALIGN CHECK
PLUS, A COMPREHENSIVE 15-POINT INSPECTION
NO COST. NO CHARGE. ON THE HOUSE!
Auto Care Services To Keep You On The Road


Whatever make of car you have; we service them all. We use high-quality market parts and components to offer the best solutions for all auto service, repair and maintenance issues we encounter.
We'll assess and inspect your car for any faults, major or minor, provide you with a reliable and understandable report on work that needs to be done and work that you can have done now or wait until later.


If you've been experiencing problems with your car or suspect something's wrong with your new or second-hand vehicle, let us have a look at it so we can help you.
We Do:


● Safety Checks
● Minor And Major Car Services
● Tire, Battery, Shocks And Brake Inspections And Repairs
● Clutch Inspections
● Automotive Electronic Inspections ​
● General Car Advice
● Diesel And Gas Engine Repairs
● Vehicle Inspections And Diagnostics
● Transmission Repair and Maintenance
Tune-Ups & Preventative Maintenance:



Want to keep your car's repair expenses down?

The easiest and best way to reduce the cost
of car repairs is to bring your vehicle in for
regular tune-ups and preventative
maintenance to our shop.

We'll make sure your oil and filters are clean,
and your brakes system in good shape and
correct small issues before they become
big repair bills.
Providing Superior Car Diagnostics
You Can Rely On
We're committed to making sure that every car that comes into
our shop leaves safer and in a better condition than it was
when it came in.
We'll make sure that our diagnostic assessments provide transparent and honest reports so that you're aware of the work we need to carry out. On top of this, we'll give you honest advice, recommendations on best practices and offer you affordable service and repairs.
Trust Us To Get The Job Done Without Worrying About
The Costs Involved!
Case Study: The 15-Point Inspection Pays Off
One Saturday morning, David brought his Toyota Corolla to the shop for an oil change. Pretty basic stuff. He grabbed a coffee and waited in the lobby.

After changing the oil and filters, the mechanic did a standard 15-point inspection and saw that the brake fluid was a little low. So they looked into it a bit more closely.

The team found a slow fluid leak in the break line. When asked, David said that he had noticed pushing the brake pedal a little harder recently. But the warning light didn't came on, so he didn't worry too much about it.

If the mechanics hadn't been thorough, the leak could easily have resulted in an accident. Instead, the they were able to replace the brake line and get David and his Corolla safely back on the road the same day.
COMPLIMENTARY QUICK ALIGN CHECK
(PLUS OUR COMPREHENSIVE 15-POINT INSPECTION)
Some Common Myths About Caring For Your Car:
"Only a dealership can perform my scheduled maintenance."
There's no need to get your car serviced at an over-priced dealership service center. Any quality repair shop like ours should have the tools to perform the required service to your manufacturer's specifications to preserve your warranty. If you have any doubts— just ask us!
"Premium gasoline gives my car premium performance."
Unless your car's manual specifically states to use "premium fuel only," then buying premium fuel is just a waste of money. American drivers wasted more than $2 billion in 2015 using premium fuel in cars designed to run on
regular unleaded fuel.
"Use a penny to test when to replace your tires. "
The "Penny Test" is a trick many of us were taught to test tread depth. But the truth is that by the time you can see the Queen's head, your tire performance has already been compromised. Want to stay safe? Try using a Toonie instead!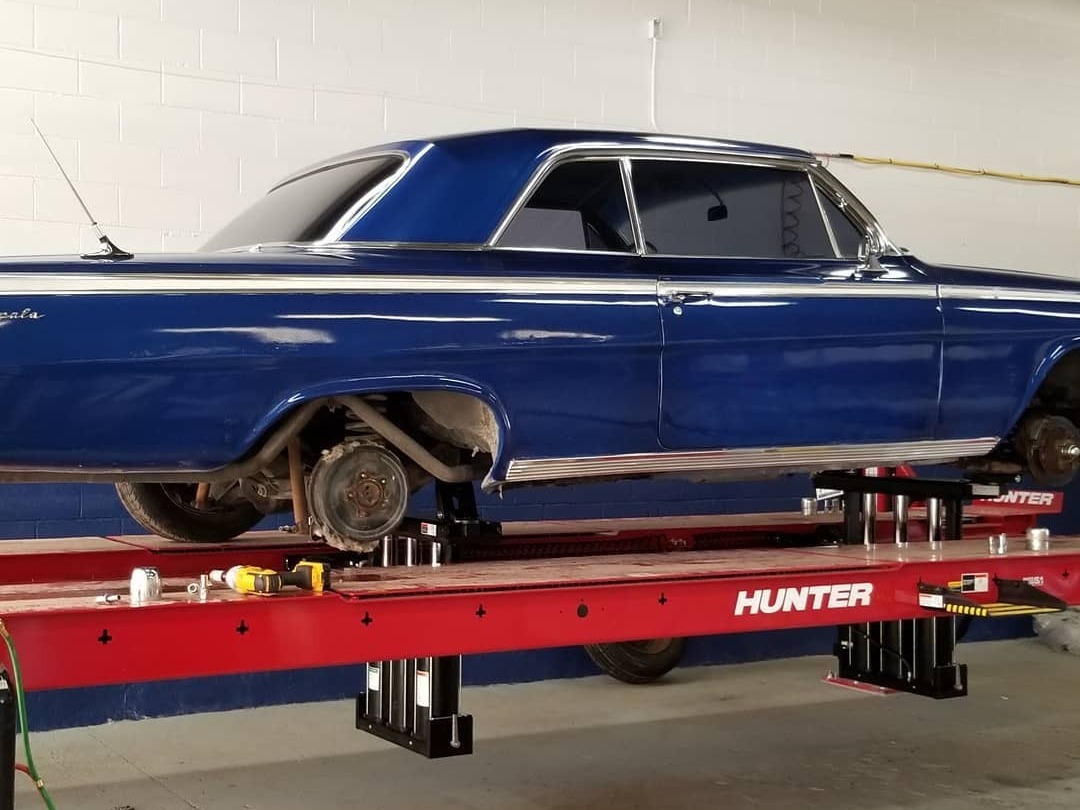 Who We Are: The Auto Mechanics You Can Trust In Perth, Ontario
We're proud to have been providing the best auto care to the Perth community. We've performed countless oil changes, brake checks and emergency repairs for families just like yours to keep their cars on the road and performing at their best. Our shop is stocked with state-of-the-art equipment and diagnostic tools operated by a well-trained team of mechanics. We are experienced in comprehensive auto care for both domestic and foreign vehicles of all types.

We treat our customers like we would want to be treated. That means you'll always receive a through, accurate quote and the best pricing possible. Schedule an appointment to see for yourself.
OUR TEAM
Happy to Serve Our Perth Area Neighbors
Chad
Shop Manager &
Lead Mechanic

Chad brings many years of experience. He started as a youngster sweeping garage floors with his dad. Chad graduated in 2002 from Algonquin College with honors. Chad is always up for a good challenge and can always find a solution. Chads future plan is to add a tow truck and motorcycle hoist to the shop. In chads off time he enjoys riding his Harley.








Krista
Office & Bookkeeping

​​​​​​​


Krista is no stranger to automotive industry. Her dad owned and operated Gemmill's Garage in Perth, ON. Immediately after high school Krista began working at her family's automotive shop doing book keeping and office work. She graduated from Algonquin College in 2010 with a bookkeeping certificate all while being employed full time! Krista brings years of experience to Wilson Street Auto.






Macy
Front Desk

​​​​​​​


Macy recently joined the Wilson Street team. She runs our front desk, quoting services and selling
products. Macy is eager to learn about the automotive industry and help make automotive services
easier for customers.











Marcy
Founder

​​​​​​​


The founder and owner of Wilson Street Auto, Marcy wanted to create a business that benefited the

residents of Perth and the surrounding areas. She inspires
the team to work hard and provide the best service to customers. Marcy frequently researches
services and costs to ensure the best prices she can offer. She frequents the shop, front lobby
and the offices to oversee Wilson Street Auto and always with
Charlie in tow.
Charlie
Our Mascot


Our mascot Charlie loves to lounge in the customer
chairs and ask for treats. Here to keep you company
while you wait for your vehicle's service!
Our location features:


• Clean, welcoming lobby with cable television while you wait
• 5 large truck bays that can accommodate heavy duty vehicles
• State of the art Hunter Alignment Equipment
• In-stock tires for viewing and purchasing
• Customer bathroom for your convenience
Frequently Asked Questions
What's that bump, clunk, squeal, or screech?
We get some variation of this question about 20 times per day! Unfortunately, it's hard to tell exactly what's wrong without the proper diagnostic equipment. We've got the tools to do it, so bring you car in and we'll let you know exactly what's causing your mystery sound.
Does it hurt my car if I drive with the check engine light on?
It is possible, but unless the light is flashing then you're usually okay for a short distance. It's more likely that you'll experience reduced performance. We do recommended that you come see us right away, to see what exactly is wrong before it can do long-term damage.
What's the correct tire pressure for my car?
The recommended tire pressure is set by the tire manufacturer. Tire pressure is measured in PSI (pounds per square inch) or KPA (kilopascals) and you can find your recommended pressure on the side of your tires. Properly inflated tires will help you get better gas mileage and reduce tire wear.
Bring Your Car
to the Perth Area
Auto Care Experts!
Easy To Find &
Convenient Hours
Office Hours:
Monday 9:00AM-5PM
Tuesday 8:00AM-5PM
Wednesday 8:00AM-5PM
Thursday 8:00AM-5PM
Friday 8:00AM-5PM
Saturday 8:00AM-5PM
Sunday Closed